It's 6:04 a.m. on the first day of September, and I am rocking out on the sofa to Dancing in September, feeling jolts of seasonal joy. Welcome, welcome, oh beautiful almost-autumnal month.
I don't know if it's September's promise of the cozy months to come, or my long-running love for black and white plaid, but I've gotten it into my mind that the floor in the new Camp Sterling laundry room should be classic Buffalo plaid, like a flannel shirt or a Ralph Lauren pillow, constructed of large single-shade tiles, like so:
Yes to the white subway tile (allllll over allllll the walls). Yes to the iron hardware, warm woods and black-painted millwork details. Yes to those glass light fixtures (with brass trim) you can see in the background. (And yes to this killer cute restaurant, The General Muir, in Atlanta.)
Are you seeing my vision? The restaurant above and below is the Hogshead Tavern, newly opened in New York City, buffalo check floor and all.
This flooring below is carpet, but ohhhhh. It makes me feel like I'm in Aspen, about to drink hot chocolate, while watching other people ski – which is my favorite thing to do in Aspen.
I'm pretty far gone for this idea. It can go country really fast, but I am devoted to keeping that firmly in check. (Hee.)
I've seen the concept rendered in porcelain tiles, ceramic tiles, and even gray/white/black marble tiles. But to give it a little un-country edge – as well as that matte chalky finish that just can't be imitated, I plan to make my plaid floor using cement tiles.
I laid out the floor below, to scale in a small laundry room, using solid -colored Granada Tile  in black, silver, and white. See the tiles here. I love the large scale.
Another option in cement tiles: the checkmate pattern by Cle Tile – it's a smaller repeat, but quite cute.
Are you into it?
Buffalo Plaid is a classic pattern, but it's also having a modern moment this fall. Target is launching a plaid-tastic capsule collection by Adam Lippes in a few weeks, and you're about to experience my laundry room floor in every store in the mall. Here are a few of my favorites:
Pillow and plates (!) below from the Adam Lippes collection for Target, coming Sept. 27: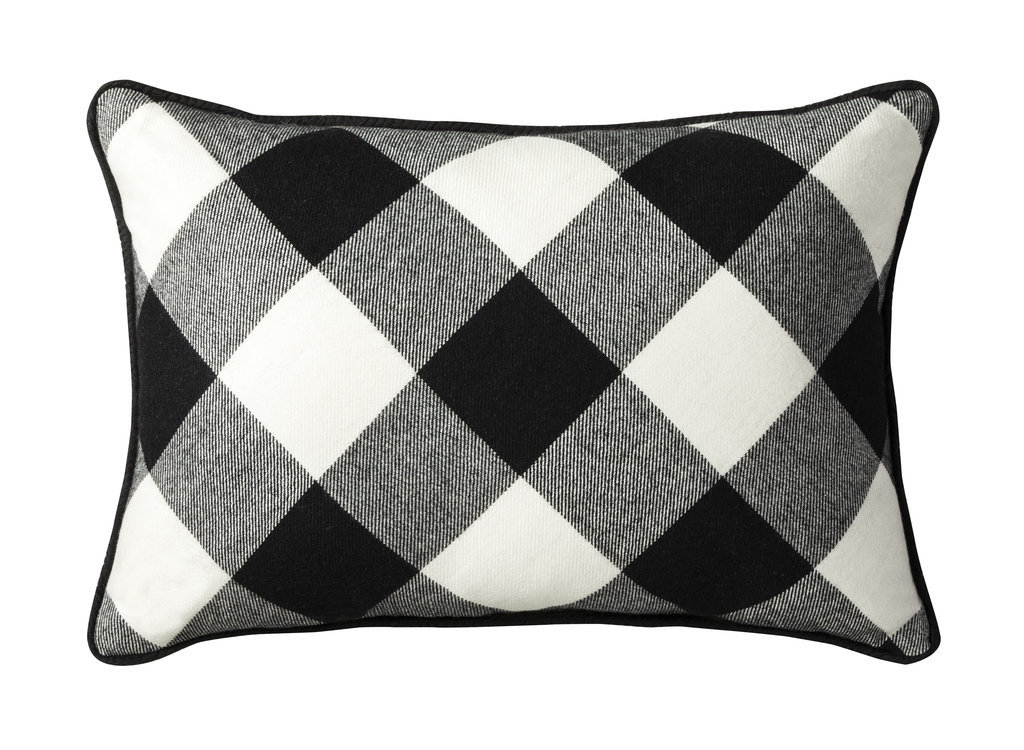 I ordered this fabric to make slightly more luxe autumnal throw pillows for Camp Sterling – Ralph Lauren Brookby Linen Check, $130 per yard, available through me.
It's on the clothing racks, too. This skirt is from H & M. $34.99.
Cutest Chair at Schoolhouse Electric, $1500:
Major "hot for teacher" vibes in this dress by Kate Spade, $398:
For those frigid Arizona October nights, this Faribault wool throw is on sale at Modern Anthology, $80.
A small price to pay for plaid, this top is $19 at Forever 21.
I owned and loved this: Dash and Albert Tattersall Black Woven Cotton Rug – $390 for an 8 x 10 – available through me.
I love these little trays, $18 – $28  from the Brook Farm General Store:
Now back to my floor – I want the laundry room to feel just a little fun, so that I am enticed to go in there from time to time, you know? The plaid is definitely youthful, but classic, too, especially paired with black trim, lots of white subway tile, a little brass and some Paris-inspired glass:
(Above photo from the General Muir: that mini portrait will have me stalking eBay for months to come.)
So what's your vote on my plaid floor – checkmark or check, please?