I read the last line of my friend J.R. Moehringer's new book Sutton while seated next to him, after dinner, piles of copied pages from Kinko's in our hands. He'd been saving the last bit, he said, because he wanted to watch me read it. And so I turned his pages in my lap, and when I got to the last sentence, my  hand flew up to my chest. I looked up at him, mouth open, eyes wet. I looked back down, read it three more times, as slow as I could.
And then I think I hit him.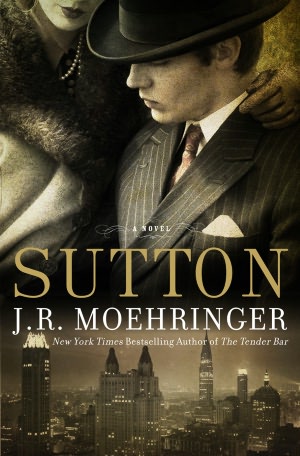 It's been since The Great Gatsby days of college since I've finished a book and found a sentence that made every page before it click together like an arrow aimed straight for my heart — a message that changed the way I think about love.
I hit my friend J.R. because it just wasn't fair, his book was already brilliant enough. And he's had a Pulitzer already. And a best-selling memoir, The Tender Bar. And it's tough to be friends with someone like that, who also happens to be my favorite person to talk to, about anything.
Sutton is a historical novel  about one of the greatest bank robbers of all time, Willie Sutton, and it's set in New York back in the '20s, when men wore suits on the street just because they could. Willie was a writer, a romantic, and a bank robber who could steal, but never kill. It's also a book about American heroes and evil banks, rose gardens and satin shoes, and burying little sacks of money in Central Park. But mostly it is about love.
J.R.'s parade of praise has begun. Amazon says the book rivals The Shawshank Redemption. This week,  Sutton was featured in The New York Times in a story about the literary heavyweights of the fall season.  And I've had that last sentence dancing around in my head since the night I read it.  I think about it every time I look up and see the moon.
Sutton hits shelves Sept. 25, and if you pre-order it now, maybe it will even come early. Send me a note when you've finished — because then, you'll know.
J.R., above, and Sutton in the New York Times, below. I like seeing my friend J.R. in the company of Tom Wolfe, Junot Diaz and Ian McEwan. That's where he belongs.