I love belljars and terrariums — there's something about giving a thing a three-dimensional glass frame that makes it feel important. Even a cake seems even more lusty when it's displayed underneath a  glass dome.
Chez moi, I like to assemble little still-lifes under the glass that reflect the season — or even just my thoughts.
Above: A sculpture my Granna bought my Grandpa of a war hero — and one of the letters she mailed to his base during the war, in 1943.
Below: a necklace I made for her once, in a glass trinket box I found at Sweet Salvage on 7th Avenue.
My friend Christina brought me this tiny bell jar and glass stand from Found in Mesa, which was the perfect size to hold my Granna's vintage mini bottle of Chanel No. 5 — her signature fragrance. Under glass, it looks like the treasure that it is.
I'm also on the hunt for a bell jar with which to properly show off some of my favorite shoes, like this image from Lonny Magazine.
It's a good time to be in the market for a treasure box. A few pretty ones that have me scheming scenes to construct under glass:
Curiosity dome from Wisteria, $49.
Gas light terrarium from Terrain, $38.
Trinket box from Terrain, $58.
Conservatory cloche from Restoration Hardware, $475: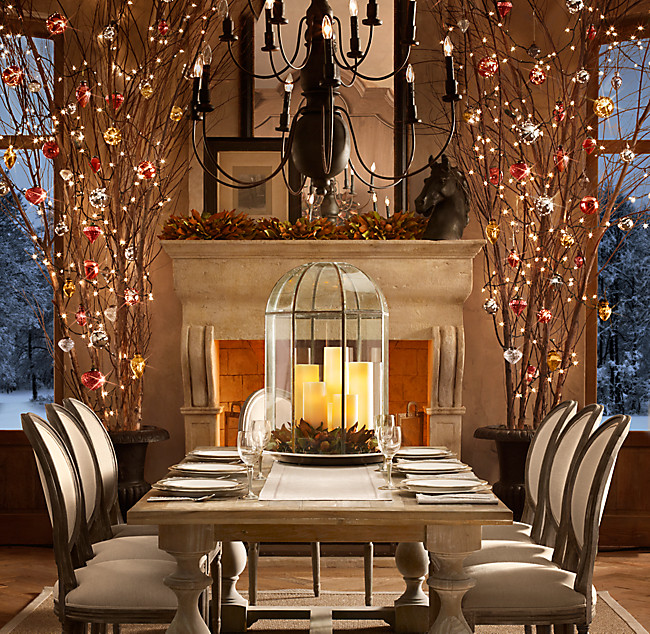 Covered glass jars from West Elm, $79 to $129:
I'm feeling quite lusty myself about this towering wire birdcage from Pottery Barn, $199:
They don't have to be class — this was built for easter glory, $10.50 at Pottery Barn.
What would you put in your treasure box?