ONE. Happy first day of autumn. I was outside at 6:30 this morning and you know what? Totally gorgeous and 75. I thought for a minute about going back in for a sweater. (Cindy and I recently brought home matching versions of this Anthropologie cropped piece, which has such cool layering proportions.)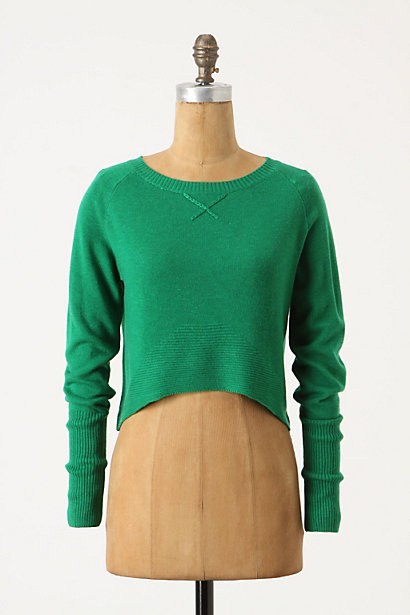 TWO: So, then I toasted the occasion with a pumpkin bagel and pumpkin cream cheese from Einstein Bros. I only allow myself one per year, and I'm thinking it will be a Happy First Day of Fall tradition.
THREE. The annual TV turf war has begun chez moi. He loves football, and I love idiotic escapist TV. (Um, Grey's Anatomy, which sounds embarrassingly like a soap opera if you watch it during daylight.) I have three new guilty pleasures: the Hamptons-set drama Revenge (I'm all about setting), New Girl (Zooey Deschanel!) and Happy Endings, which a writer friend told me about because it's smart and well-written and slightly unguilty, too.
FOUR. Next week is Fall Craft Week on this blog, so send me pics of your creations. I'd love to share what you've done. (jaimee.rose@arizonarepublic.com)
I'm deep into pumpkinland, and can't wait to show you this year's offering. Here's a hint, from Country Living:
FIVE. My family has spent the last few days in the hospital with my Granna. There was an unspeakable moment when we had to watch my Grandpa tell her goodbye. Then, we got a SIXTH opinion. Finally,  a brave surgeon said something different than the five before, performed surgery at midnight, and everything changed.
I am grateful for that surgeon, for sixth opinions, and for my sassy, gorgeous Granna, who listened last night as my mom and I planned the annual Halloween party in her hospital room. We were trying to give her something to look forward to, which is what we all need. Happy fall.
(This year, for the party, I am attempting Martha's Fungus Tart.)