Did you see the forecast? 77 degrees?! It's practically winter. We can almost wear sweaters! Or, it may be time to turn the sweaters you haven't worn since you moved here  into something else. Continuing with the fall craft extravaganza, I've compiled a few ideas.
These had me at cable-knit and cream. Local Mary Wambach makes and sells them at A Fine Line in Tucson. She also shared her methods below — which you should read, even if you don't want to make the pumpkins, because they'll make you laugh instead.

1. Buy pumpkins with interesting stems and vines
2. Don't let house pets eat
3. Dry stems in our searing hot Fall sunshine
4. Don't let desert critters eat at night
5. Cut big circle pattern onto burlap
6. Sew, stuff, glue, and embellish
7. Look up pictures on the Internet of what those big fall leaves look like (I'm a desert girl) then
draw cut and sew on pumpkin
8. Go thrifting for cute sweaters that are too hot to wear
9.  Cut off sleeves, much cooler
10. Stuff sleeves and body with fiberfill until you run out of fiberfill, then add Safeway plastic grocery bags because it's 10pm and you've run out of fiberfill
11. Stuff, sew, glue and embellish pumpkin like it's going to some fancy party
12. Put on display in home
13. Don't let house pets eat!
You could also create juicy couture-esque deer like Rachel Denny. (Buy taxidermy forms onlinehere. You're going to have to get creative with the antlers and ears, though.)
Cover a few bangle bracelets, like these seen on Ravelry. I found it on Pinterest. (Follow me here — I've had a few requests to link to my boards again, so there you go. And tell me where to find you!)
There are about a thousand sweater tutorials here, including directions to make a pillow or a throw as seen in  Better Homes and Gardens:
Make some old vases feel cozy, as imagined by that genius Sweet Paul.
Turn them into pillows inspired by Pottery Barn (below).
Jones Design Company sweater pillow tutorial is here, and another from Brassy Apple (pictured below) is here.
Every fall, I remember how much I want these ceramic cable-knit cups found on Etsy. They come in black, too.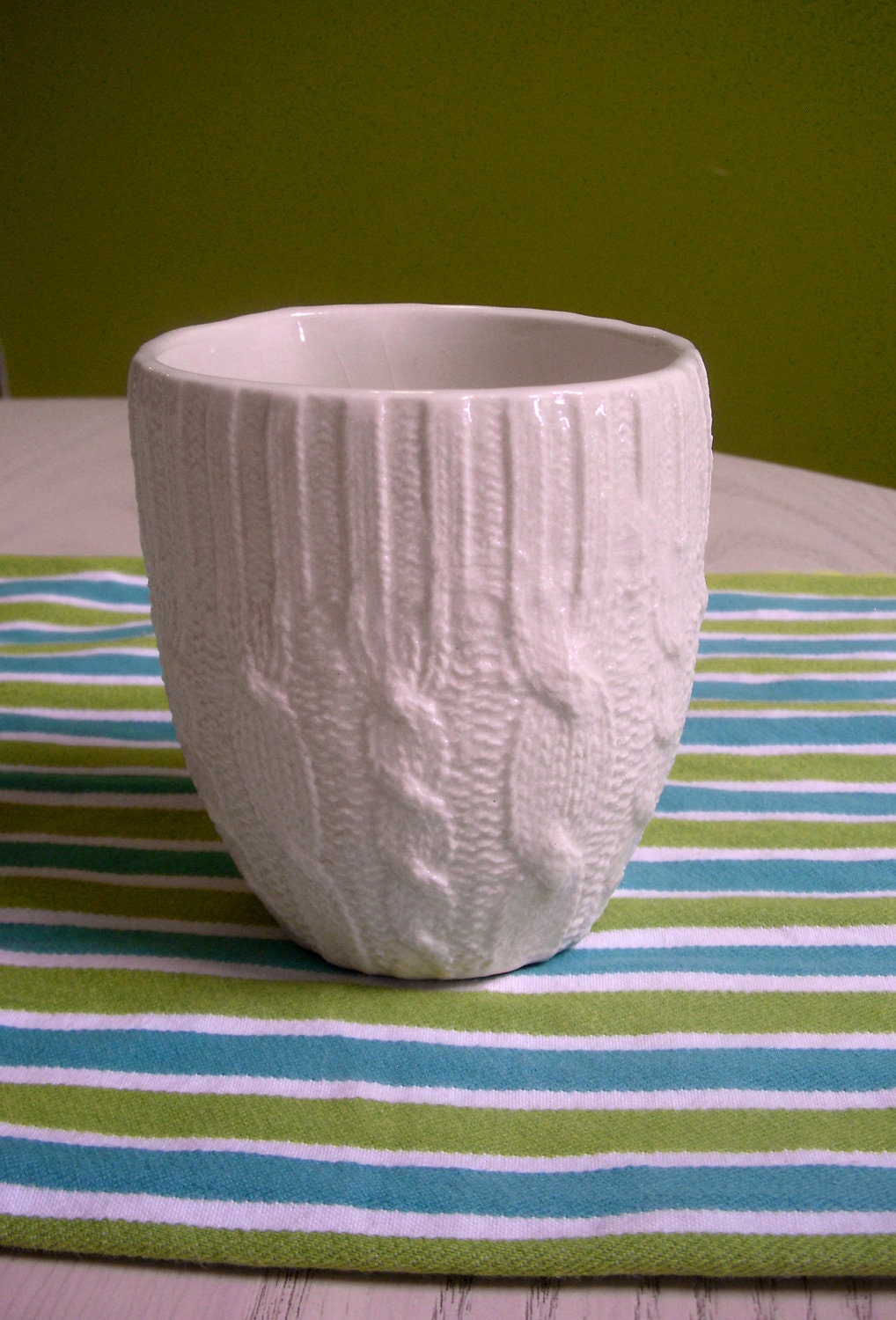 Or maybe you just want a new sweater to wear (with a T-shirt underneath because, hello, by lunchtime you'll be hot). I have a crush on this sweater cape — $198 at J. Crew — which is ridiculous because 1) I live in Phoenix and 2) it is a cape. CAPE, people. But I think it would be brilliant at the movies (also known as the coldest place on earth).
Or, you could hit the Old Navy sweater sale and pick up a piece exactly like the one I bought at Zara in May, thinking I would totally need a green striped summer sweater. (I have never worn it. Humph.)