At Camp Sterling, occupied by one tennis NUT of a husband, all attentions are currently focused on the BNP Paribas Open tournament in Palm Springs. We attended last year, and since I'm not up for 24-7 tennis,  I spent much of the week trolling the shops, spas and restaurants of Palm Springs.
I have some intense spring break fever, and Tyson and I are both tempted to hop in the car this weekend for a Bridget Jones-esque mini-break. If we head to Palm Springs, this will be our itinerary:
STAY – BEST CHOICE: I would drive to The Parker Palm Springs this weekend just for the Blueberry Pancakes at Norma's. They are evil, ethereal, orange-laced creations and when we were in Palm Springs, I ate them almost every day.
The Parker was designed by Jonathan Adler, who is in the midst of a design refresh here as well. There are hammocks on the lawn, cute bars by the pool, and JA pottery in each witty little room. The grounds just feel like a vacation. And don't miss the yacht club-themed spa. I swam laps and felt like I was in a Slim Aarons photo.
STAY – BUDGET: The Ace Hotel, Palm Springs
You've heard it's sooooo cool. And here's my review: it is — if you're in your 20s or early 30s and budget and clout matter most.
You can't beat the rates. The atmosphere is hipster-chic. The rooms are clean and look stylish. But our air conditioner didn't cool the room well, even after they "fixed" it, and we were told this is a consistent problem at the Ace. It's hot in Palm Springs, people. I also didn't love the hard floors and futon sofa.
Bottom line: get a room on the first floor and adjust your expectations, or visit in the winter.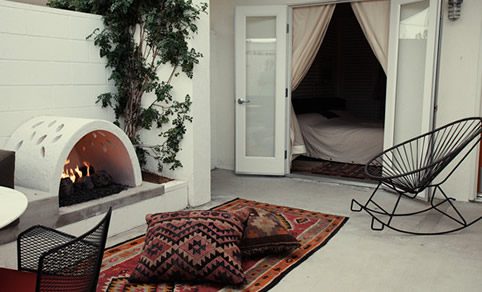 SHOP: In downtown Palm Springs, make a beeline to Palm Canyon Drive, where midcentury temples make friends with kitschy boutiques. My don't-miss pick: Trina Turk. There's a clothing boutique adjoined to a home shop, and the entire place is themed around pools, pink cocktails, and joy.
I also really loved The Shops at Thirteen Forty Five — many mini boutiques, all housed under one roof. This is where I was tempted to load my car and never look back.
I'm still mad I didn't buy these — made by a Los Angeles artist.
EAT: Norma's, Norma's Norma's. Got that? Good.
I also flipped over Workshop Kitchen + Bar. Dinner was delicious, but I really remember how I felt in this space: low candlelight, so much texture, hushed laughter, and sexiness for days.
Oh, and there's also a certain outlet mall — you know the one. Gucci, YSL, Prada, Valentino, DVF, Vince, et. al. I didn't spend any time there at all. (Sssshhhhh.)
What are your favorite stops in Palm Springs?