Snow — everywhere but here, it seems. Yesterday I dug out my ski pants and put them on. They are horrifying. Why, I wondered, must we all brave the slopes looking like burnt marshmallows when we know that ski pants can be made trim and chic? I've seen the Olympics. Instead, I feel that if someone pushed me over, and I rolled down the hill, I'd be wearing so much padding that it's possible I wouldn't feel a thing.
And then, when I went to an online ski shop to find non-horrifying pants, I discovered that they cost $300 and up, which is awesome, considering I wear them for four hours every 4.5 years. (Please explain: puffy ski pants have more fabric, shouldn't THEY be the expensive ones?)
And then I think about Chanel, which opened a mountaintop pop-up store at Courchevel, a French ski resort, according to  Elle UK.
This is how Karl Lagerfeld thinks we should look when we ski, and I think Karl Lagerfeld should call the people who make ski pants for the rest of us.
(They do, of course, make Chanel skis — I want them as decorations, because they are not worthy of the bunny hill, where I belong.)
There are also Chanel ski boots, which would coordinate  excellently should you happen to have the above Chanel pearl belt to wear over your skinny ski pants. (I suppose the belt might prove useful, should you break your leg on the slopes and need to fashion a makeshift sling.)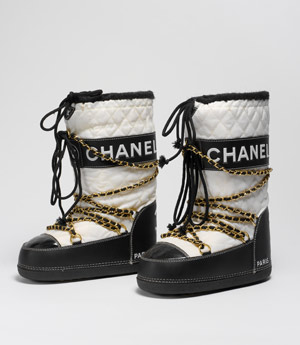 These 1994 lovelies live at the Metropolitan Museum of Art in New York, where they are studied, I suppose, as fashion and cultural phenomena.
P.S.  This is how Chanel does Christmas trees – an idea far superior, of course, to any I've tried.
Note to self: next year, make giant paper doily Christmas trees.
(From Anjoyplanet on Flickr, as seen on Black Eiffel.)