I was so happy about the rain this morning that I came downstairs, opened the patio doors for the first time in seven horrible desert months, and sat close by to listen to the drops.
Then T came downstairs and shut the doors and gave me a stern lecture about the cost of air conditioning – a lecture that continued far longer than it should have.
Don't you dislike those women on the internet who pretend their husbands/boyfriends are always romantic, kind, flower-bearing, date-planning souls?
Besides driving to work with the car windows down, here's my weekend plan:
BUY BURGUNDY LIPSTICK
I like it when people tell me I have to have something — just the idea of buying a "must-have" burgundy lipstick for fall makes it seem like the weather will change soon, and my closet will fill with  magical leather-trimmed leggings, that also make me look very thin. I have hopes for Nars' Scarlet Empress, $24 at Neiman Marcus. I plan to try many shades until I find The One.
EAT MELLOWCREME PUMPKINS
Yeah, baby. They're here.
FRENCH FILMFEST 
How to pretend I live in France: see the two Francophile movies out this weekend. Little White Lies is an indy film starring Marion Cotillard, with English subtitles, that is billed as "The French Big Chill" and winning rhapsodic reviews. It's playing at Camelview, for my fellow Phoenicians. (Have dinner before at Vincent's Bistro to properly set the mood.)
#2: The Words, a Bradley Cooper-written film set in 1940s Paris that is getting mixed reviews. I already know I'll love it. I could watch a silent film of Bradley Cooper walking around 1940s Paris with absolutely no plot and be quite pleased. Read my friend Barbara VanDenburgh's review here. Barbara may be the smartest person in my office. She's 30.
Go to FOUND …  to buy a vintage book carved into my initials. $15.
BOOKSTORE TRIP
And if I'm buying carved-up books, the writer in me insists on procuring a book I can actually read. I loved Jonathan Tropper's last book, This is Where I Leave You. I'm going to drive (with the windows down) to my nearest bookstore, which is 30 minutes away (the world is ending), and bring home this: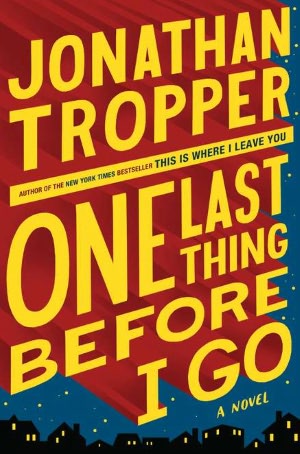 Also: my home decorating projects will continue. On Monday, I'll show you the wall in my living room that I painted black. And soon, in my laundry room, instead of polka-dots, there will be stripes. Happy rainy weekend. See you Monday.
P.S. Can someone please label these earrings a "must-have"? I need an excuse to push "buy." $212 at ShopBop.