Loving where you live is currently a stylish little movement.  All over, there are T-shirts and  wall art offerings that pay homage to the places we call home. Arizona has some pretty cool products. Behold:
From  I Heart Mesa: the diving lady sign on a T-shirt. This classic piece of neon is a fixture outside the Starlite Motel on Main Street, and something I've loved since I was a little girl. I grew up in the East Valley, and when I was really little, Main Street was where you went for dinner . . . say, King's Table, or Pizza Mart, or Ned's Krazy Subs (OK, on Broadway, but close enough.)
Also from I Heart Mesa, a state love shirt: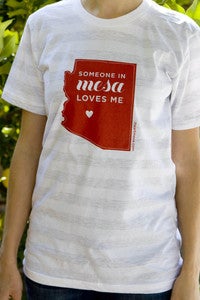 I'm pretty into this sunrise photograph of the diving lady sign on Etsy, $20:
I appreciate local artist Jason Hill and his ability to make our cool places look even cooler when they're framed on our walls, like so:
I also appreciate tHill's new T-shirt design featuring the Westward Ho — a favorite of mine — and available in many colors at local shop Holy Pinata, $25.
(Holy Pinata also offers this:)
More from Jason Hill: chair prints, also in his Etsy shop.
You can show Phoenix pride on your car or your upper half with the the Frances classic: first a bumper sticker, now also a T-shirt.
This print is available in varied day-glo shades, from the JanuaryJones shop on Etsy, $12:
Printable versions of our state in many patterns, $10:
And here's some love for our adopted summer hometown of San Diego/Coronado from Orange and Park, $22 to $30 — and these prints are the ones I'm actually buying, because I believe in delusional decorating.