I hope you're hungry.
One, it's Arizona Restaurant Week. The girls and I are going to Beckett's Table. T and I have French-themed plans. My friend and fellow reporter Richard Ruelas has already been to Petite Maison (below)and brought rave reviews to work this morning. Also good ideas: Binkley's (if you can get in), Christopher's, Citizen Public House, Vincent's, House of Tricks.  Mangia, mangia — you have through Saturday night.
Two, a happy date night discovery: Chris Bianco's sandwich haven — Pane Bianco on Central — is now serving those killer Pizzeria Bianco pies. We ventured in at 7 p.m., shared a wood-roasted appetizer plate, a pizza with pistachios on top, and chocolate Italian ice.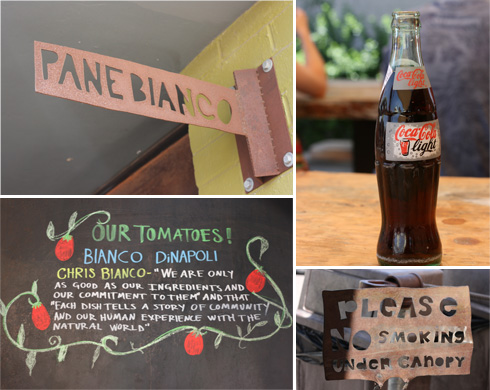 (And if you didn't know, Pizzeria Bianco is now open for lunch, and on Mondays, so 11-10 pm almost every single day, and THERE IS ALMOST NO LINE. Yes. Glorious.) Pane closes at 8 p.m., pizza for dinner only. While you're there: buy some of Chris Bianco's gorgeous canned tomatoes to make sauce at home. He drew the label's letters. His dad painted the tomatoes. This is a man who believes in handmade things. (Photo courtesy Carrie at Cracking Good, one of my favorite Phoenix reads.)
Three, and you really do NOT want to know this, but Tammie Coe is now making and serving maple bacon scones on Saturdays. Yes, that's right: buttery scones, filled with bacon bits, and a maple glaze on top.  Also . . . that's just the beginning.
Also on Tammie's menu these days: Crack Cake, named for good reason. It's basically a truffle in the shape of a kit-kat bar, and I will be serving these svelte (hah) little sticks on top of scoops of store-bought ice cream for all future parties. I can't make anything that tastes better. They have them right now at the Roosevelt Street shop, just in case you need one immediately.
Also this:
I haven't had one yet, but I've heard the Buddha Bar legend from people who know how I feel about marshmallows. And Butterscotch. And evil.
So, yeah. I need to go find some lunch now. The salad I planned sounds sad indeed. And this, my friends, is why one should never blog at lunchtime.