I wasn't finished. My inner Cape Cod /Coronado/Anywhere But Here issues have turned up more to show you. We really need some beach parties, my friends. Or Sundays in Coronado and concerts in the park. My tableware wishlist:
I'll be having these Durban plates from Serena & Lily, four for $148. They look handmade and will transfer seasons well when my nautical obsessions end and the pumpkin problems start.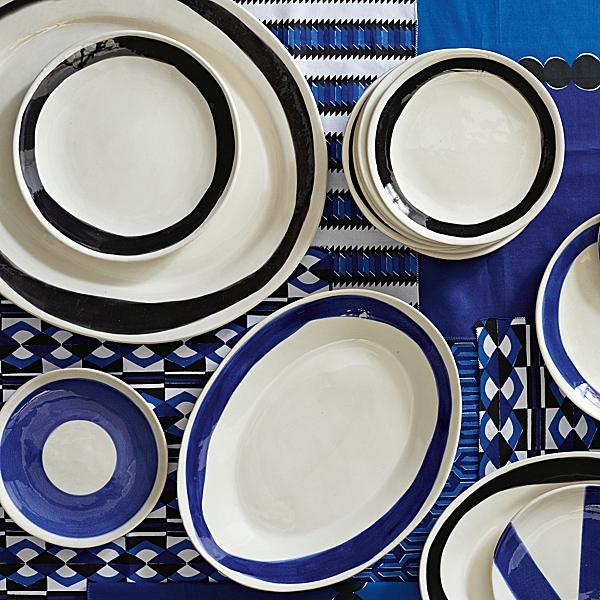 I found this fab cast iron whale bottle opener at Solo Cedros in Solana Beach (best accessory shop in San Diego), squawked, then brought him home. You can find him online here. $22.
I don't care if these flag napkins are trite. I need them for fourth of July celebrations on Coronado. $29.
I'm having a total whale moment. He's a cocktail shaker from Pottery Barn and I had to have him. $59.
You can't channel Cape Cod without monograms. These gorgeous things are four for $58 from Mark and Graham, a new Williams-Sonoma offshoot with monograms for days and days.
Porcelain ice cream cones. OK, yes. Here.
Octopus Cake Stand, $248 from Bhldn. Which I still hate typing. Can we not just spell it out? Beholden. Much easier.
These are acrylic, gorgeous, gray and made for outdoors.  A mere $3 each at World Market.
Save me from all bottle openers and whales. $24 at Bhldn.
I saw this pillow in January at dinner with Annie Selke and the people who made it. And I freaked out. They probably thought I was weird. It's indoor-outdoor, embroidered, and awesome. Also available in red and navy. $75. I can order it for you.