In northern California, where I've been, the women in beauty shops were talking about fall. The seasons were beginning to change, they said — crisp nights, sweaters in shops, and we watched brave squirrels darting in and out of civilzation trying to stash nuts for the cold.
Our fall feels different, of course, but the experience gave me hope. It's coming here, too, you know, and I'm looking forward.
1. Tumbled among late-summer peaches and cherries in my grocery basket at the market last night: Hatch Valley chiles. It's time for those now, too. They remind me of my grandpa and Septembers in his northern Arizona garden. (My favorite Hatch chile recipes here.)
2. New season, new shoes. Sweet Cindy surprised me with an early brithday present when we both lost our heads for these naughty-nice heels at Nordstrom. (October, my brithday month — on the way, technically, wouldn't you say?)
I'm also having heart flutters for these Tory Burch tasseled glories, $395: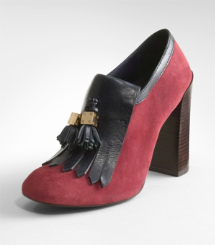 3. My Steve-Martin-as-Renaissance-Man love affair continues, and I'm now heavy into to the actor-novelist-playwright's joyful bluegrass banjo tunes. (Whither this? I don't know, but it's FANTASTIC and I adore.) He's coming in concert to the Mesa Arts Center Aug. 19. Sample lyric: "Women like to slow dance, they like it for the romance. (Listen here.)
4. School supplies, so full of promise, everywhere you look. (Best movie line ever: "I would send you a bouquet of sharpened pencils if I knew your name and address.") A sweet reader alerted me to black and white striped school supplies at See Jane Work and oh my.
I also like this New York Times replica box from Pottery Barn for stashing my paper problems.
5. One last great summer movie: One Day, from the book by David Nicholls, which I'm reading and loving right now. It's a quirky and literary British love story that stretches over 20 years. Nicholls cool' structure tells the story episodically by illluminating one day of each year — the same day, actually: July 15. Anyway, read it before Anne Hathaway and Hollywood make everyone forget that it was a book first. The film comes out Aug. 19.  (And thanks Kylie Gad for the recommendation.)