Yes, yes, we all love Target, but have you been there lately? Nate Berkus is in the house, Christmas decor is in full tilt, and I've been snapping up brilliant accessories from the store's new Threshold brand for clients. And on Dec. 1, Neiman Marcus + Target arrives. I never thought those two stores would be such good friends. A look at what has me unusually excited about the big red dot:
I found these Nate Berkus zigzag jars and had to bring them home. The small one is $23 and available online if you're not in the mood to Target-stalk. (And who ever is?)
These gold-rimmed feather trays look like a find from a high-end boutique. Mine will hold olives for parties or jewelry by my nightstand — I can't decide. $12.99.
These knit trees have me inspired to go sweater-shopping at thrift stores.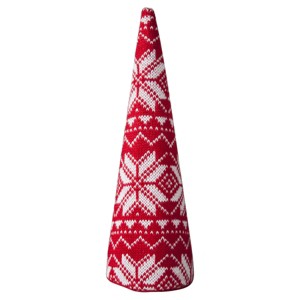 I am a sucker for cable knit, and I love the idea of having wintry coziness in the bathroom, $7 to $13.
Nieces' Christmas gift: fantastic art supplies set that I plan to augment with some NYC finds, $27 by Kid Made Modern.
The collaboration with Neiman Marcus lands on Dec. 1 — and yes, you should absolutely plan to Target-stalk at 8 a.m. that morning. It's all dazzling, but I especially like these Tracy Reese dessert plates, $40 for four.
A Robert Rodriguez lace cocktail dress for $99? Indeed.
A rockin' little trinket box from Philip Crangi, $69
And I'll be making sure quite a few of my clients consider this Altuzarra cocktail collection. The tray is $79, the shaker is $49, and the glass set is $49.
P.S. Don't miss the baking section, where I spied these cute melamine cake stands and thought of neighbor gifts.
P.S. Is it too early to start talking about Christmas? I'm livin' for it already.